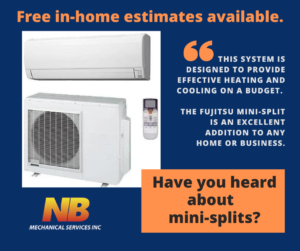 As an authorized dealer, we are proud to offer Fujitsu Mini-Splits to our customers.
Fujitu's Mini-Split*  has been providing efficient and responsible heating and air conditioning solutions for decades!
 Perfect for conditioning hard to heat or cool spaces
A great solution of finished basements
Provide heat down to -5 or -15 degrees outside temp
12-year parts warranty
12-month interest-free financing available
Local utility rebates available on most models
If you are looking to provide heating and cooling for an individual space, or supplement existing heating and air conditioning equipment, a mini-split system is a reliable and efficient choice.
This system is designed to provide effective heating and cooling on a budget.
*most models provide heat down to -5 degrees, while some models can go down to -15 outdoor temp.